History
The doors to the Merry-Go-Round Museum opened to the public on July, 14, 1990 but the idea was born on October 1, 1988 when the U.S. Postal Service issued four carousel stamps.  Paul Calle of Stamford, Connecticut designed the first set of stamps.  One of the featured animals was from Cedar Point's Kiddieland carousel.  The first day issue ceremony was held at the Sandusky amusement park.
The block of stamps included a Gustav Dentzel deer (ca. 1895), Charles Looff goat and camel (ca. 1880), and the King Armored horse by Daniel Muller (ca. 1925), The King horse is from Cedar Point's Kiddieland carousel.  This particular King horse is considered to be one of the rarest and most beautiful of all carousel figures.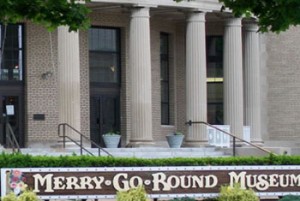 To make the first day issue special, a group of local citizens borrowed the vacant former Sandusky Post Office and gathered together a wonderful carousel display to celebrate the Cedar Point horse as well as other figures.
The group hoped for a few hundred visitors, but surprisingly more than 2,000 came from across the nation to share the joy of carousels.  In the following months a non-profit corporation was formed with the mission, "to preserve and promote the art and history of the carousel."
The corporation purchased the unique post office building, which is on the National Register of Historic Places and preserving the building became part of the mission.  The Corporation received a 501 c (3) status and fund raising began soon after.
The Merry-Go-Round Museum display artifacts that add to the public's awareness, knowledge, and appreciation of the history of the carousel.  Dentzel carving shop tools are a permanent exhibit, along with a working woodcarving shop, and the museum's own machine, (circa 1939 Allan Herschell Corporation).  The museum continues to seek artifacts from amusement parks, carnivals, and private individuals, and encourages long and short-term loans of memorabilia and antiques from earlier periods of the amusement and carousel industry.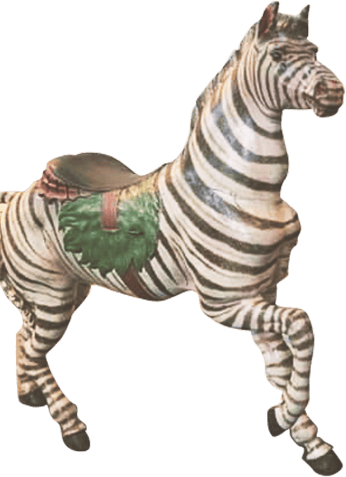 Help us keep going around and around in 2021 and beyond!